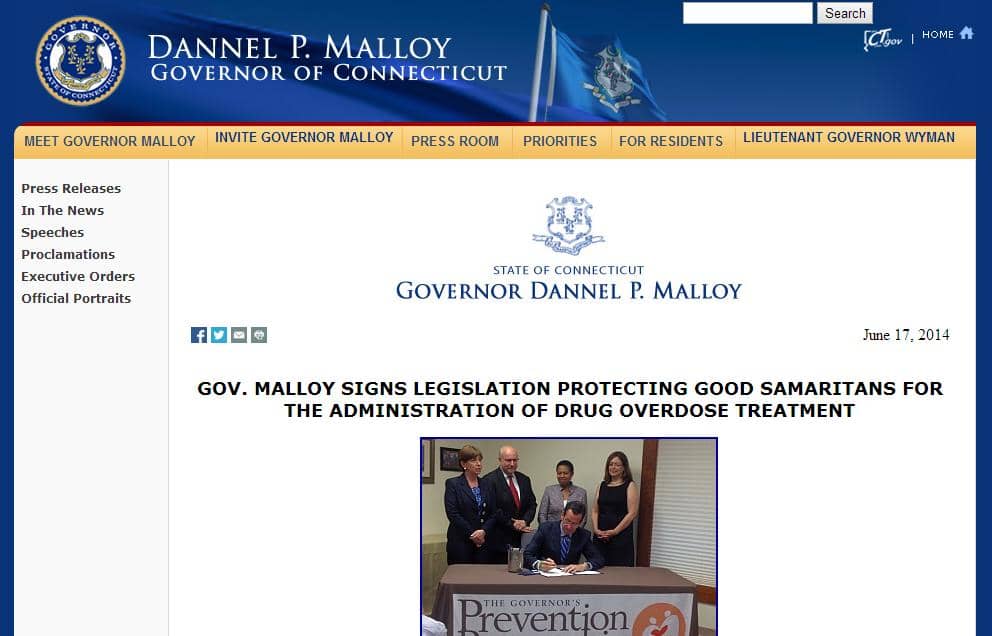 With the news that more than 15,000 people die from opiate overdoses in the U.S., and the fact that there is a heavy concentration of opiate users in the Northeast, several New England states have announced plans to work together on combating the problem.
Connecticut Governor Dannel Malloy has been in the news lately regarding his position on drug abuse. He has been vocal about needing to monitor prescriptions that involve opioids. He has also been insistent that states need to communicate with each other when it comes to intelligence and crime fighting. Recently Malloy teamed up with four other New England Governors to tackle the opioid problem that has consumed the area, as well as signed a new law regarding overdose treatment in his state.
Governors from Massachusetts, Vermont, New Hampshire, Rhode Island, and Malloy's Connecticut met to discuss the heroin epidemic and how best to handle the problem. They understand that it will take the forces of all five states to make a dent in the amount of heroin and painkillers that are being abused.
Many leaders speak of prescription monitoring and an increased amount of information that needs to be shared between states. However, Malloy took it a step further and brought up the fact that addicts sometimes need to get out of their environment in order to receive effective treatment.
Malloy and the other Governors proposed reworking the Medicaid rules for their states so that addicts could go to other states to receive treatment for drug abuse problems. This is a major step towards handling addiction and making it possible for addicts to receive viable treatment. Removing an addict form his or her immediate environment can often be key in making sure that the person has a good chance at staying clean.
The drug abuse problem is growing so fast in the eastern states that Vermont Governor, Peter Shumlin, spent his entire speech about the affairs of the state talking about the drug abuse problem. "The problem is no worse in New England than it is in the other states." Shumlin stated.
Maine's governor, Paul LePage is the only dissenter amongst the states. He does not agree with Malloy's pushing for citizens to be able to administer Naloxone (a drug designed to bring a person out of a heroin or opioid overdose). LePage stated that he felt that it would promote addicts to continue using and discourage them from seeking help.