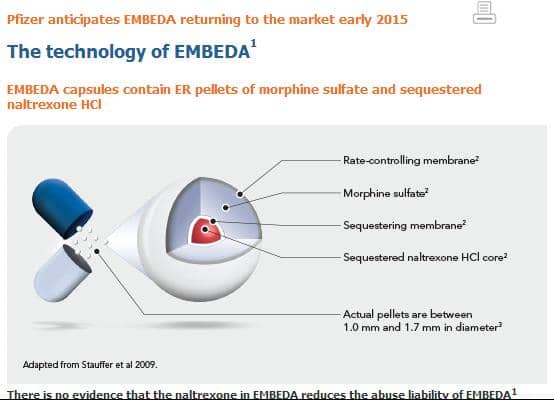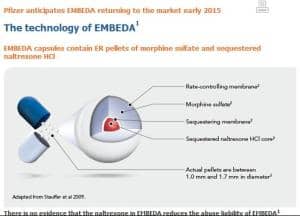 The U.S. Food and Drug Administration (FDA) approved new labeling for Embeda (morphine sulfate and naltrexone hydrochloride). The new labeling includes the claim that the drug has properties expected to reduce abuse when the product is crushed.
Embeda abuse-deterrent properties are expected to reduce, but not completely prevent, misuse of the drug when tampered with. When the capsule is taken properly, only the morphine contained in the drug is released. However, if the structure of the tablet is manipulated, or crushed, the naltrexone is released blocking some of the euphoric effects of the morphine. Naltrexone can also bring on withdrawal symptoms in opioid dependent people.
Sharon Hertz, MD, acting director of the Division of Anesthesia, Analgesia and Addiction Products in the FDA's Center for Drug Evaluation and Research, says that the science behind the development of abuse-deterrent properties for prescription opioids continues to evolve, but will not completely correct the problem of prescription opioid abuse. "But they [abuse-deterrent properties] can be a part of a comprehensive approach to combat the very serious problem of prescription drug abuse in the United States," Hertz said.
Embeda extended release is an opioid analgesic used to treat severe pain. Patients taking Embeda found alternative treatments to be ineffective, and have pain that is severe enough to require daily, around the clock, long term opioid treatment. Abuse or misuse of Embeda can cause an overdose which may lead to death. The fear of abuse stems from the morphine base, which of course is a highly addictive opiate.
Interestingly, despite the PR and marketing hype of the approval of the abuse-deterrent labeling, a snapshot of the Embeda website clearly states, "There is no evidence that the naltrexone in Embeda reduces the abuse liability of [the drug]."
The FDA's release includes the statement, "When swallowed intact, however, Embeda can still be abused or misused because the naltrexone is not expected to substantially block the euphoric effects of the morphine."
While Pfizer and some chronic pain patients may disagree, most addiction treatment and prevention experts would probably say that another extended release prescription opioid on the market only increases the chances of someone becoming dependent on the drugs.