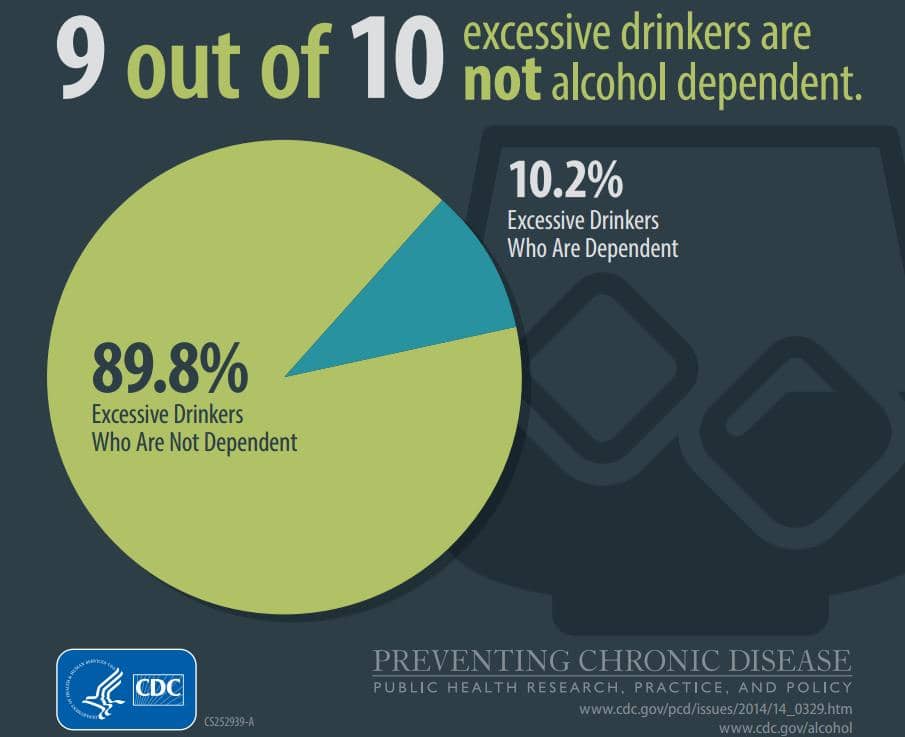 The majority of adults who drink too much are not considered alcoholics or alcohol dependent, according to the Centers for Disease Control and Prevention (CDC) and the Substance Abuse and Mental Health Services Administration (SAMHSA). A recent study revealed that excessive drinking is responsible for over 88,000 deaths a year, but nine out of ten Americans who drink excessively do not meet the criteria to be classified as "alcoholics".
"This study shows that, contrary to popular opinion, most people who drink too much are not alcohol dependent or alcoholics," said Robert Brewer, M.D., M.S.P.H., and Alcohol Program Lead at CDC. He said the study also shows the importance of taking a comprehensive approach to reducing excessive drinking. Comprehensive approaches should include evidence-based community strategies, screening and counseling in healthcare settings, and high-quality substance abuse treatment for those who need it, he added.
The collaborative study found that nearly 1 in 3 adults can be classified as an excessive drinker. Most of them binge drink, usually on multiple occasions. However, the study showed about 1 in 30 adults is classified as alcohol dependent. The rates of alcohol dependence increase with the amount of alcohol consumed. About 10 percent of binge drinkers are alcohol dependent, while 30 percent of people who binge frequently (10 or more times a month) are alcohol dependent.
Data on 138,100 U.S. adults was analyzed by CDC and SAMHSA scientists. The adults, aged 18 years and older, participated in the National Survey on Drug Use and Health (NSDUH) from 2009 to 2011. The NSDUH includes a wide range of questions on substance use, including current drinking, binge drinking, average alcohol consumption, and symptoms of alcohol dependence.
The Community Preventative Services Task Force recommends the following evidence-based strategies to reduce excessive drinking: increasing alcohol taxes, regulating alcohol outlet density, and holding alcohol retailers liable for harms resulting from illegal sales to minors or intoxicated patrons.
It should be noted that someone doesn't have to be an alcoholic to need an intervention or treatment. Chronic alcohol abuse and repeating patterns of excessive drinking can certainly warrant treatment to stop the destructive behaviors.