Addiction Treatment Services provides updated and accurate information on substance abuse and recovery resources around the country. Our directory of nationwide addiction treatment resources includes organizations, listings of state agencies, and insurance coverage information that may be of assistance to those seeking drug or alcohol rehab treatment.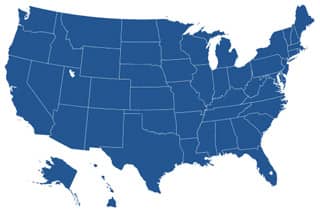 Explore our available resources to learn more about substance abuse and addiction recovery options in your state, such as:
The types of treatment available
What rehab treatments could be covered by insurance
Advice and suggestions for staging a successful intervention
Choosing to seek addiction treatment is the first step toward sobriety and we'd like to help you continue along that path. Being addicted to drugs and/or alcohol can completely take over your life. We're here to help you regain control.
If you're ready to get started, check out the resources below or visit https://www.samhsa.gov/ to find a facility.
Drug & Alcohol Rehab Centers Near Me (Resources by State). Select Your State:
Get Substance Abuse Help in Your Area Today!
Types of Addiction Treatment Centers
As you familiarize yourself with the different types of addiction treatments detailed throughout our website, you might find yourself wondering Are any of these treatment centers near me? or How can these rehab programs address my individual needs?
12 Step Treatment Facilities
The 12-Step treatment program is one of the oldest and most popular addiction treatment methods thanks to creator Bill Wilson back in 1935, the man behind the book Alcoholics Anonymous. Since then, 12 Steps has grown into a worldwide practice with millions of men and women helping each other stay sober. The program has even branched out beyond addressing alcoholism, with segments ranging from Heroin Anonymous to Overeaters Anonymous to Sex and Love Anonymous. There's a 12 Steps fellowship for nearly every addictive behavior out there, and most who've gone through the program successfully swear that 12 Steps saved their life.
Over time, 12 Steps started getting integrated into rehab centers and are typically at the heart of treatment plans. Many rehab patients are encouraged to join a 12 Step fellowship, get a sponsor, and attend meetings while working on the steps so they have an additional support group to lean on.
12 Step programs are great for helping people learn healthier coping skills, but also provide the opportunity to discover long-term solutions to triggers and develop a close network of friends that can support lasting addiction recovery. Plus, most treatment centers will also provide 12 Steps support and treatment in-house.
Integrated Treatment Centers (Dual Diagnosis)
Most integrated treatment programs are designed to treat individuals with both a substance abuse disorder and mental or behavioral health conditions. Since addiction and mental health issues run in similar circles, this is an extremely popular type of treatment. According to recent medical and scientific advancements, an estimated 50% of those suffering from substance abuse disorders and addiction also suffer from a mental health condition or mood disorder of some kind, such as Depression, Anxiety, Bipolar Disorder, or an Eating Disorder.
The integrated treatment centers near you will treat your addiction while simultaneously treating any underlying mental health conditions that have likely encouraged your addiction to form in the first place. Some of these programs feature talk therapy, Cognitive Behavioral therapy, life skills training, group therapy, monitored detox, aftercare planning, and medication assistance. Addressing all mental health concerns greatly decreases the chance of relapse and increases the odds that a recovering addict will stay sober after conquering their addiction or alcoholism.
Getting into a great integrated treatment program might require traveling, but we can help you determine if there are any of these treatment centers near you.
Whether you need inpatient treatment, intense behavioral therapy, detoxification, or an outpatient care program, we can find you the help you're looking for today.
Outpatient Treatment Centers
Being able to dedicate 30 to 90 days to in-patient rehab isn't always feasible, but that shouldn't stop you from seeking treatment. Outpatient rehab is typically used after an inpatient program or to accommodate a busy schedule. If you've already completed an inpatient program, you'll probably only have a few group sessions a few nights per week.
Intensive outpatient (IOP) rehab treatment tends to be a bit more involved. With an IOP program, you'll either live at home or at a halfway house depending on your situation. IOP is more similar to inpatient rehab, but the patient goes home at the end of the day. After intensive outpatient rehab, patients gradually transition to less intensive nighttime therapy meetings a few times a week.
Outpatient rehab therapy can last a few weeks or several months, depending on the patient and how smoothly their transition toward a life of sobriety goes. Usually, your therapist will determine when you've started to take control of your life to the point of being able to require less and less treatment.
Detoxification
Detox is the process of safely and effectively removing drugs and/or alcohol from your body. There are substances that can lead to dangerous or even fatal withdrawal symptoms such as seizures, tremors, or delirium – which are common alcohol withdrawal symptoms. If detox if approached haphazardly, the process can be much more challenging and dangerous to the individual, so attempting to self-detox is highly discouraged. There are some things that are better to leave to the professionals.
In a rehab detox program, tapers and anticonvulsants are often used to prevent or treat the adverse side effects of drug and alcohol withdrawals.
Should you find yourself checking into a treatment center that does not offer a detox program, you may be upset to learn that they're going to send you to the hospital prior to your admission. However, a treatment center with its own medical detox program will be able to guide you through your addiction treatment from start to finish.
You might even wind up going through detox, inpatient rehab treatment, an IOP, and transition to outpatient treatment all through the same rehab facility. Doing so would not only make your treatment more effective and efficient, but it also gives you peace of mind while going through each stage of the treatment process, since you won't have to readjust to a drastically new environment every time you complete a stage of treatment.
Halfway Houses & Sober Living
As their names imply, halfway houses and sober living function as the bridge from rehab (usually an inpatient program) back into normal life for those transitioning into a life free of drugs and alcohol. These facilities aren't usually as strict as the living accommodations at an inpatient rehab center, but they still require sobriety and often conduct periodic drug tests. Some halfway houses offer more support and structure, while some are relaxed and laid back. Your rehab center will help determine the best sober living program for you post-rehab.
Most halfway house residents participate in some kind of outpatient treatment or 12 Steps program, if not both.
Drug & Alcohol Rehab Treatment Centers Near Me
As rehab centers continue to pop up and expand, the programs offered for those seeking addiction recovery get more individualized. Most programs will advertise that they can treat every type of addiction, but some rehab centers might have a special level of expertise in helping people overcome their addictions to a specific substance, like crack cocaine, heroin, or benzos. Some centers pick a small cluster of drugs to focus their treatment services on. Some might be exclusively geared toward overcoming alcoholism.
There will also be treatment centers that have a strong medically-aided recovery program or a lot of experience treating withdrawal symptoms and guiding patients through monitored detoxes.
If your struggle with substance abuse is extreme, then it's best that you find a local treatment center that can both control your detoxification process and offer you an inpatient rehab program following detox.
For more information on finding an alcohol addiction treatment center, visit https://www.samhsa.gov/.