Beyond regular outpatient services, which generally only last an hour a day, three days per week, there are higher levels of care called intensive outpatient (IOP) and partial hospitalization programs (PHP). These services are often delivered for several hours during the day, on weekends or after school or work. They provide more treatment than a typical outpatient program and offer more depth of rehabilitation.
IOP rehab addiction treatment programs and PHP programs for addiction often include services such as:
Medication management
Group counseling
Individual therapy
Educational classes
And more
Patients enrolled in either an IOP or PHP are either not at risk for severe or acute withdrawal, have a less severe substance abuse problem, or have recently completed an inpatient (aka residential) treatment program. Both IOPs and PHPs can include patients with co-occurring disorders and combine mental health and substance abuse therapies.
Let's take a look at the differences between these two forms of outpatient programs.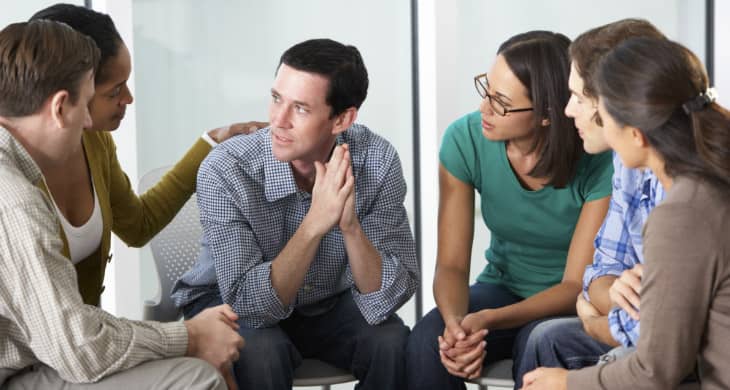 What Are Intensive Outpatient Addiction Treatment Programs?
Clients in Intensive Outpatient addiction treatment programs are receiving drug or alcohol rehabilitation services on a part-time, yet intensive schedule. This schedule still accommodates work and school obligations, but the clients are required to visit their designated outpatient facility pretty much every day.
An IOP program is generally recommended for the following scenarios:
For treatment seekers who do not need medically supervised detox
Immediately following successful completion of detox
To allow clients to continue recovery therapies they learned and practiced in residential treatment
IOPs generally have a heavy focus on group therapy, but clients are also often assigned an individual therapist with whom they meet at least once a week. They may also be directed to participate in couples and family counseling, as well.
Additionally, IOP clients usually take a host of educational classes at their outpatient facility, on topics such as:
Relapse Prevention Skills
How to Manage Urges and Cravings
Introduction to the 12 Steps
Understanding the Brain and Addiction
Post-Acute Withdrawal Syndrome (PAWS) Awareness
Co-Occurring Disorders
Anger and Stress Management
Codependency Education
What Are Partial Hospitalization Programs for Addiction?
Partial hospitalization programs were originally designed for mental health patients, but some treatment centers are now offering it to clients who suffer from addiction. With that being said, most of these addiction treatment programs have a strong focus on dual diagnosis clients.
Clients usually enter a PHP directly after completing detox and/or residential treatment. Like an IOP, PHPs often require clients to be present for treatment almost every single day. However, PHPs almost always require more of a client's time each day than an IOP would. Additionally, PHPs generally involve much more supervision, including the monitoring of psychiatric symptoms and medication intake.
PHP programs also include a fair amount of group and individual therapy, and clients learn how to better cope with stress without having to turn to a harmful substance to self-medicate. PHPs are sometimes called day treatment, in that the person is receiving care on almost a full-time basis during the day but then allowed to return home at night.
How Do You Know Which Program is Right for You?
The thing is, you can't know if a PHP or IOP is right for you until your rehab facility of choice does an initial assessment of your physical health and substance use history. Also, every addiction treatment center is going to have a slightly different idea of what constitutes a PHP, IOP and even regular outpatient treatment.
We recommend https://www.samhsa.gov/ to find a center near you!