As noted on our addiction treatment page, there are multiple levels of care that comprise the addiction treatment field. Some of these are clinically-recognized services, while others may include variations created by professionals trying to provide for the needs of their clients.
The most widely-supported guidelines for patient levels of care are from the American Society of Addiction Medicine (ASAM). ASAM levels and criteria are generally considered the standard in the field, and take into account both the severity of the addiction problem as well as the appropriate level of treatment needed to achieve the desired outcome.
There are five main levels, which are displayed below in the ASAM chart: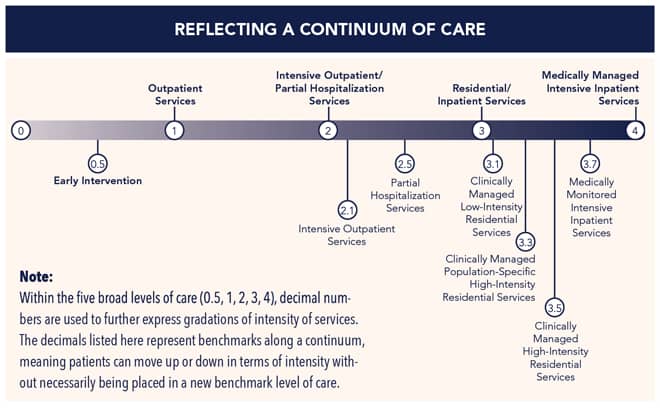 The placement of someone in the appropriate level of care is usually determined with an assessment procedure that uses information from six dimensions. These include Acute Intoxication and/or Withdrawal Potential; Biomedical Conditions and Complications; Emotional, Behavioral, or Cognitive Conditions and Complications; Readiness to Change; Relapse, Continued Use, or Continued Problem Potential; and Recovery/Living Environment.
For more information on the main levels, click on the services below:
Detoxification
Outpatient
Intensive Outpatient (IOP)/Partial Hospitalization (PHP)
Inpatient/Residential Treatment (RTC)