Last updated on May 29th, 2019 at 10:11 am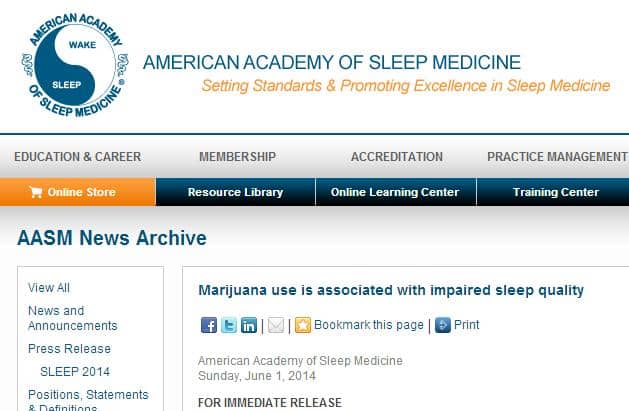 The American Academy of Sleep Medicine recently issued a release talking about the findings of a new study regarding marijuana use. Researchers found that adults who started using marijuana before the age of 15 were twice as likely to have severe sleep problems.
Research assistant Jilish Chheda from the University of Pennsylvania in Philadelphia exclaimed, "The most surprising finding was that there was a strong relationship with age of first use, no matter how often people were currently using marijuana. People who started using early were more likely to have sleep problems as an adult."
Of the sleep problems that were associated with marijuana use, the most commonly reported included difficulty falling asleep, feeling overly tired during the day and experiencing non-restorative sleep. The study was officially called "Patterns of Marijuana (Cannabis) Use and Sleep Symptoms in American Adults."
Researchers indicated that the relationship to marijuana use should be examined further for additional long-term negative effects, especially as more states seek legalization of the drug. In this case, a lack of quality sleep can have a detrimental effect on work performance and productivity, as well as mood and general level of fatigue. More specifically, serious sleep difficulties can cause major heart problems, high blood pressure, diabetes or a stroke, among other complications.
The research was led by Michael Grandner, PhD, instructor in the Division of Mood and Anxiety Disorders within the Department of Psychiatry of the Perelman School of Medicine at the University of Pennsylvania. Funding support for the study was received from the National Heart, Lung and Blood Institute; the National Institute of Environmental Health Sciences; and the University of Pennsylvania Clinical and Translational Science Award.