Navigating the field of recovery centers can be extremely confusing for many people. There are many different options in terms of types of therapies, specialized programs and length of stay.
The substance abuse and mental health communities are continually striving to identify and use effective methods. As a result, treatment seekers and their families today have many choices. While this can be confusing at first, it also means you can surely find a program that is a good fit for your particular needs.
Below is an overview of the emerging trends that have become best practices in nearly all treatment centers, as well as some of the more cutting-edge techniques that are showing promise.
New Addiction Treatment Trends that Are Here to Stay
Although you could call them trends, these are really best practices that are so effective they've become the standard of care in high-quality treatment centers.
Comprehensive, Individualized Treatment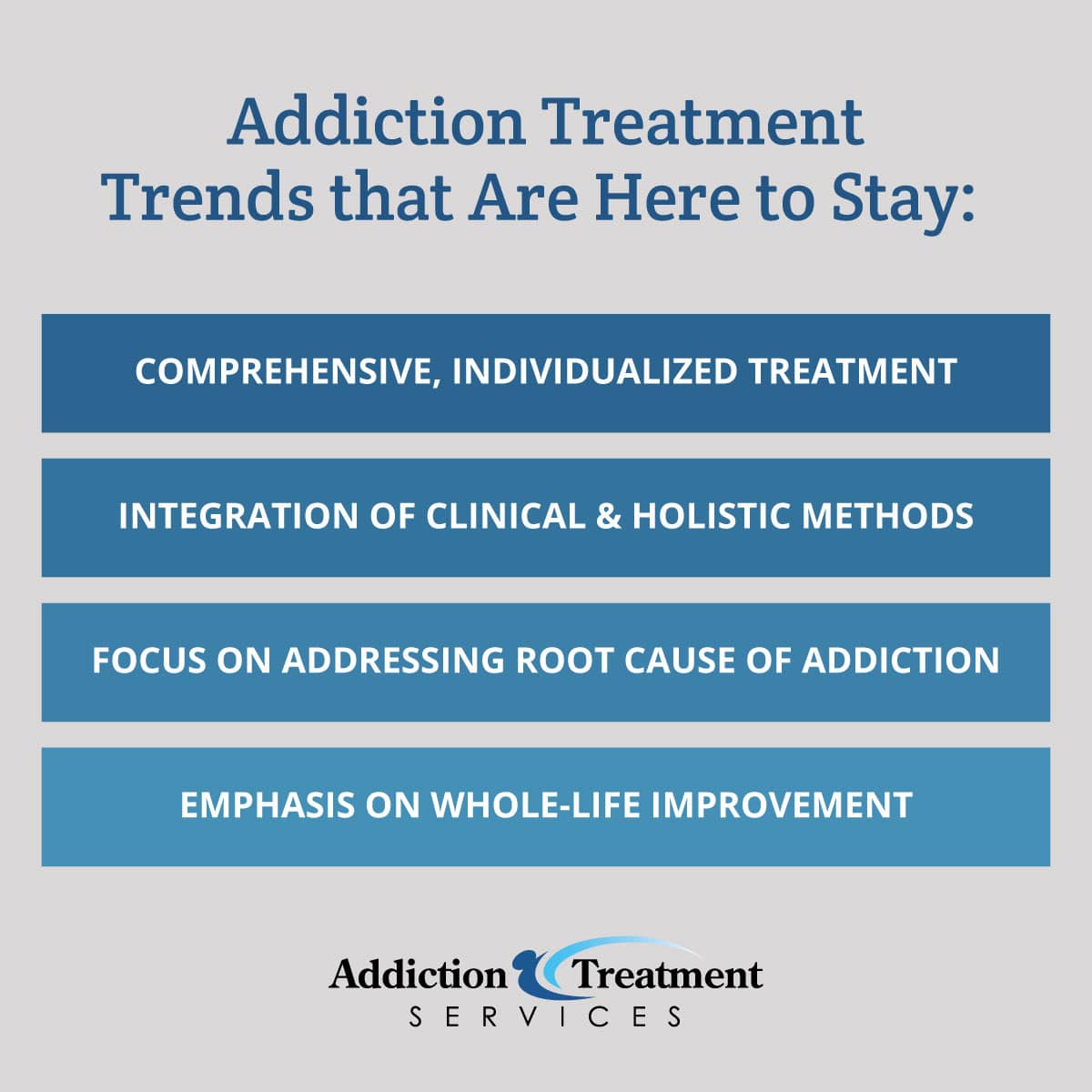 One of the most important emerging trends in the addiction treatment field is for facilities to offer a variety of services rather than only one path that all clients must follow.
Upon intake, trained staff use assessment tools to help pinpoint the areas in an individual's life that need more attention, as well as which therapies are likely to be of greatest benefit to that individual.
As bestselling author Anne M. Fletcher has pointed out in her books Inside Rehab and Sober for Good, there are many ways in which people can recover from addiction. Even the definition of traditional treatment has changed, as an increasing number of 12-step-based facilities also offer additional types of counseling and therapy.
For maximum effectiveness, addiction treatment must be highly personalized to each individual's needs. This customization is important because:
There are many different types of addiction, with different effects on the body and mind.
Each person has a different history and root cause of addiction.
Each individual has different motivation, values and goals.
Integration of Clinical, Holistic and Homeopathic Methods
Whereas treatment centers used to describe themselves as traditional, holistic, clinical, 12-step, etc., the present reality is that most facilities provide a combination of all these services. A particular rehab may focus its program around a certain type of approach, like the 12-step program, or holistic treatment, and then add on other types of services to supplement its core approach.
Focus on Addressing the Root Cause of Addiction
Experts in addiction treatment know that simply getting clean is not enough for long-term recovery. It's critical to understand what led a person to drugs or alcohol in the first place, and help them resolve the cause of the problem so that the person doesn't return to substances after leaving rehab.
Emphasis on Whole-Life Improvement
In addition to addressing the root cause of addiction, it's important to help those in recovery create new habits and interests that improve their quality of life and help them avoid or manage the stress and cravings that can lead to relapse.
Clients are given training and experience in:
Healthy eating
Enjoyable exercise
Fulfilling and exciting leisure activities
Building healthy friendships and relationships
Drug-free pain management
How to manage stress and substance cravings
New Types of Addiction Treatment Therapies
Next, let's explore some emerging trends in the psychological, medical and holistic fields that are being used to make addiction treatment more effective.
Targeted Clinical Therapy Techniques
Clinical therapies that have been developed over the past decades by psychologists that are now in widespread use include:
CBT – Cognitive Behavioral Therapy
DBT – Dialectical Behavioral Therapy
EMDR – Eye Movement Desensitization and Reprocessing Therapy
A newer emerging trend is virtual reality therapy, which is being used as a form of exposure therapy.
Effective Holistic Therapy Techniques
Another big trend is the integration of Western and Eastern medicine. Although techniques like yoga, acupuncture and meditation may be relatively new to Westerners, they have been in use as healing techniques in other parts of the world for hundreds, even thousands, of years.
Western therapists have taken inspiration from various fields to create effective addiction therapies for the modern age, including:
Meditation/mindfulness practices
Yoga
Adventure therapy and exercise
Acupuncture
Animal therapy
Gardening (horticulture) therapy
Art and music therapy
New Medically Based Therapies
Medical technology has also been evolving to find ways to alleviate pain from withdrawal symptoms, reduce cravings, and remove biological dependency on substances. The ultimate goal of addiction recovery is to restore the human body to its natural processes and balance so the individual can center his or her life on healthy pursuits.
Some recent medical innovations in the addiction recovery field (technology- and medication-wise) include:
The Bridge device
Nicotinamide adenine dinucleotide
Neurofeedback
Ibogaine
Biochemical restoration and nutrition
Hallucinogenic substances
New Drugs for Fighting Opioid Addiction
As the opioid epidemic continues to ravage the country, researchers have new drugs to help heroin and opiate addicts recover from the physical effects of addiction. Learn more about these alternatives to methadone and buprenorphine, which include:
Zubsolv
Probuphine
Lofexidine hydrochloride
Tips for Evaluating Addiction Treatment Centers
While treatment centers may promise to use all the latest cutting-edge techniques, it's important for families and individuals to do their homework when researching a facility. Find out:
Which qualifications and certifications the staff has
What licensing the facility has
What the recommended length of stay is
What type of aftercare and support systems they have after completing inpatient treatment
Look for reviews online, question affiliations and ask for alternatives to compare.
We live in a country where we are fortunate enough to have a wide array of health care services, and substance abuse treatment is no exception. Even if your top choice isn't available to you, it is possible to find several other programs and a course of treatment that can help you or your loved one achieve lasting sobriety.
Next, Learn About the Different Levels of Addiction Treatment
Editor's Note: This article was originally published in June 2013, but was updated in September 2017 to reflect more recent information and advances in the addiction treatment field.