Alabama Addiction Treatment Information
While the drug and alcohol use levels in Alabama are generally lower than the national average, there are still hundreds of thousands of people in need of treatment solutions for their substance abuse issues. If you are searching for a rehabilitation facility, we can help.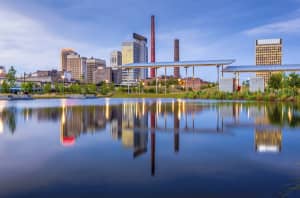 We assist people in Alabama with locating successful recovery services. This includes detoxification centers, inpatient rehabs, outpatient programs and recovery support systems. This also includes resources for those suffering from co-occuring conditions (substance abuse and a mental illness).
Addiction is considered a disease and finding the help necessary is imperative to a successful life long recovery. In many cases, the first step toward helping a loved one in need is making a call to learn more about your options.
Substance Use in Alabama: Statistics and Information
An indication of the need for future treatment services in Alabama is the number of youth abusing illicit drugs today as well as their attitudes toward substance abuse.
About 35,000 young people reported using illicit drugs within the past month
Nearly 67% of teens perceived no great risk from smoking marijuana once per month
Around 60% perceived no great risk from having five or more alcoholic drinks once or twice per week
Many of the youth in Alabama have reported that they felt that there was no real risk or problems involved with regular and frequent substance use. This is not only saddening but it's also a cause for alarm. After all, if individuals see no risk with using drugs or alcohol in an unhealthy and abusive way, it's likely that addiction problems will develop fairly quickly.
Young people are not the only individuals in Alabama who are using alcohol and drugs excessively. Many adults, both younger and older, have reported substance use problems in their lives.
Over 200,000 people reported heavy alcohol use within the past month or were dependent on alcohol within the past year.
About 90,000 residents who were dependent on or abused illicit drugs within the past year.
Substance abuse is more common than many people think. But, unfortunately, many of the people who suffer from addiction have limited access to or little desire to get the help they need in order to overcome substance dependence and addiction. Only a small percentage of Alabama's population of substance dependent individuals actually wind up getting formal rehabilitation help.
The types of addictions that people suffer from in Alabama vary. Some individuals struggle with alcoholism while others deal with addictions which involve drugs.
64% are getting treatment for a drug problem
9% are getting treatment for alcohol use
The remaining 27% are getting treatment for both drug and alcohol use
The total number of people in treatment daily has increased from less than 14,000 just five years earlier to about 17,000.
Inpatient Treatment in Alabama
A very small percentage of those receiving treatment are getting inpatient help or even intensive outpatient. Most of them are on some other form of outpatient services, including opioid replacement programs such as taking methadone (over 8,000 people) or buprenorphine (nearly 700 people). Both of these numbers have increased significantly in recent years.
Fortunately for those with health insurance, recent law changes have made drug and alcohol treatment programs more accessible. So, if you live in Alabama and you have insurance coverage, we can assist you with a complimentary benefits check and assist you in locating facilities that should work with your policy.
Simply contact us today for more information on the variety of services we offer, and get yourself or your loved one on the path to long-term recovery today.
Additional Recovery Resources for Alabama
The Alabama Department of Mental Health
Division of Mental Health and Substance Abuse Services
100 North Union Street
Montgomery, Alabama 36130-1410
334-242-3454
The integration of mental health and substance abuse treatment is at the forefront of a national trend toward a more holistic approach to wellness.
Also known as a dual-diagnosis, individuals suffering from mental illness may not even recognize that they are suffering as their substance abuse has been used to mask those feelings.
For people who have co-occurring mental illnesses and substance use disorders, access to effective treatment can make all the difference between a true recovery and a prolonged struggle. Individuals who are only treated for one condition are at risk for a greater chance of relapse.
In a strategic move to more effectively meet those needs, ADMH has merged the Division of Mental Illness Services and the Division of Substance Abuse Services into one division.
AA Meetings in Alabama
Alabama AA meetings here
Treatment Center Directory for Alabama
Getting Help For a Loved One
What if he/she won't go to treatment? Regardless of what you may have been told, you don't have to wait for an addict to "hit rock bottom" before they become willing to receive help.
There are effective intervention practices that can be successfully applied to achieve that result now. We routinely assist families in Alabama with drug and alcohol interventions with a history of positive outcomes.
So, if you know someone who is struggling with substance abuse (or you are suffering from an addiction problem), please contact us today to learn how we can help!