Washington State Drug and Alcohol Addiction Treatment
Struggling with addiction or alcoholism causes untold stress on each person involved. Sometimes finding the energy to make a wise choice about the best drug and alcohol treatment center is confusing and difficult-especially right at the time when you are ready for help. We're here to help work with you immediately so that you don't make the wrong choice just because it is the easiest one.
Addiction Treatment Services can explain each of your options to help you decide which rehab centers will best meet your unique situation.
Finding the Right Rehab Treatment Facility in Washington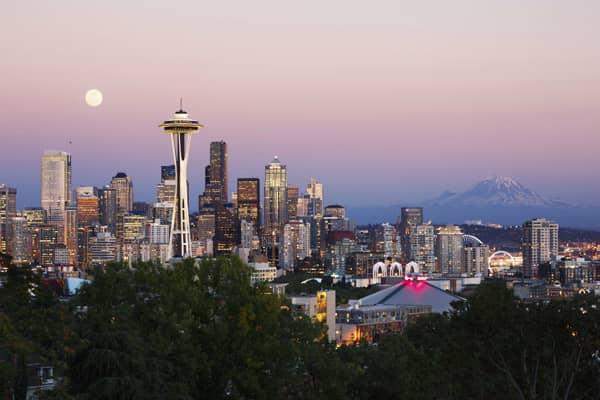 There are many important things to consider before you make the important decision about which alcohol or drug addiction rehab center is best for you or your loved one. Addiction Treatment Services will go over each crucial consideration with you, to help you make an informed decision.
You don't want to delay treatment by being put on a waiting list. Being put on a waiting list only means the addiction continues, and the risks increase. We know which qualified treatment centers can help you now.
Addiction Treatment Programs in Washington-Are They Your Best Option?
Not necessarily. Many people fail in rehab located too close to home because they can easily leave the center and reconnect with friends who are using, or even supply them with drugs or alcohol while they are in treatment.
There are many highly qualified comprehensive programs, and we'll help you find the one that best meets your needs.
Attending rehab elsewhere (whether in a different region of Washington or in a completely different state) gives you the opportunity to focus solely on getting better, without the negative stressors and situations that led to your drug and alcohol use in the first place.
Addiction Treatment Services has professional links to many highly regarded and credentialed rehab facilities across the United States. We won't suggest any drug and alcohol addiction treatment facility that doesn't share our own core value of individualized and client-centered care. Call us now and we'll see which one of our rehab treatment partners best meets your needs.
Addiction Rehab Treatment Services in Washington
An Overview on Addiction For Washington State
The Pacific Northwest is home to Washington (WA) state, a region of the United States that has been plagued by rampant drug use since the grunge era of the 90s. Heroin, amphetamines, marijuana, and prescription drug abuse across Washington are not just some of the highest in the country; they are amongst the highest worldwide. The 90s saw some of the worst drug-caused carnage in the state's history, with the problems only slightly improving since those dark times. Alcohol abuse in Washington is still a problem; however, addiction rates for the substance have been gradually declining for over a decade.
Troubling Addiction Figures For WA
WA has some of the worst addiction rates in the world, except alcohol abuse, which is slightly lower than the national average. Every year, over 4,500 individuals check themselves into a Washington rehab clinic to treat themselves for heroin addiction. Marijuana addiction is worst in Washington than anywhere else in the world, with over 10,000 people every year, checking themselves into rehab to overcome cannabis addiction. Approximately 5,500 amphetamines addicts are professionally treated in the state each year. Concerning prescription drug abuse, over 5,000 people a year are treated in Washington for addiction to these substances. Alcohol abuse is on the decline in WA, with only 5,000 people a year seeking out professional treatment for alcohol addiction.
Rehab Data For The State
According to a recent study, roughly 12 percent of Washington's residents admit to using illicit drugs at least 2-3 times per month. Approximately 10 percent of Washington residents admit to having a substance abuse problem. Out of that percentage, roughly 27 percent of individuals are reported to have entered a professional rehab center to get the help that they need. While Washington has a much higher illicit drug abuse rate than anywhere else in the United States, it also has one of the highest percentages of addicts willing to seek help for their addictions. Washington also has one of the highest rehab success rates in the world, with nearly 71 percent of all rehab patients remaining addiction-free for five years after the treatment is completed.
WA's Fantastic Inpatient Rehab Facilities
Due to the exceptionally high rate of illicit drug addiction throughout the state of WA, some of the best and most effective inpatient rehab facilities have become established. Since the mid-1980s Washington has had huge problems with drug addiction amongst its residents, the state has had nearly four decades to fine-tune one of the best rehab industries in the world. Experts often describe Washington's inpatient rehab as fat-free and straight to the point. In other words, the state's rehab facilities are known for being highly efficient in the care that they offer, prioritizing success over attractive amenities.
Most of Washington's rehab facilities can be found in Seattle, the giant and modern metropolis. There are also many renowned inpatient care facilities within Spokane, Tacoma, Vancouver, Bellevue, Everett, Kent, and Yakima. Even though Washington's population is fairly spread out, there aren't many areas throughout the state that are not a close distance away from at least one certified inpatient care facility. As far as the higher quality inpatient rehab centers are concerned, most of these can be found in Seattle, Spokane, Tacoma, and Vancouver. Some of these rehab centers within these cities have legendary rehabilitation success rates due to the vast amounts of treatment experience they possess.
Some addiction experts believe that the inpatient rehab facilities within Washington are the very best in the world. Outside of possessing outstanding success rates, they are known for being extremely affordable and easily accessible. Other states throughout the US have a shortage of quality inpatient rehab centers, especially in states like Alaska or Hawaii. The opposite can be said about WA, as one could argue that the state has a rehab surplus. Inpatient care throughout the state used to treat heroin addiction, methamphetamine, and marijuana addiction is better than what you will find anywhere else in the United States or internationally.
Outpatient Rehab Programs in Washington
The state of Washington has an outpatient rehab industry that is as robust and highly effective as its inpatient rehab industry. Outpatient facilities across Washington state are typically used to treat patients that have already completed a more intense inpatient rehab program. Outpatient programs across Washington are also frequently used to treat marijuana addiction and light to moderate cases of alcoholism. Primary treatments for heroin addiction, methamphetamine addiction, or prescription drug addiction is never administered through outpatient programs, as far more extensive monitoring is involved, especially during the detox phase. Heroin, opioid, and even severe alcohol withdrawal can be fatal if a detox specialist is not controlling the situation.
Another critical role that outpatient rehab programs play throughout Washington is that they are often an integral part of state-mandated addiction therapy. Washington has stringent child custody laws that prohibit a drug or alcohol-addicted parent or legal guardian from being able to assume responsibility for a child or attain visitation rights if a divorce has occurred. State-mandated outpatient rehab programs often help to ensure that a particular patient is clean by drug testing them frequently. Aside from having their sobriety regularly verified, they are also able to continue receiving outpatient addiction treatment. Many outpatient programs within the state are government-run and funded.
Washington's Heroin Epidemic
A heroin epidemic in Washington has risen and fallen and then increased back up again over the last three decades. Just as experts feel that heroin addiction rates throughout the state are starting to fall, they always seem to shoot back up to record highs a few years later. Due to this occurrence, Washington's rehab industry has become extremely proficient in treating heroin addiction. Many heroin addicts from around the US will travel to Washington to receive the potentially life-saving addiction treatment that they so desperately need. Many of Washington's inpatient heroin rehab centers use group therapy to treat heroin addiction, a particularly useful means to help patients overcome the problem.
One of the saddest aspects of Washington's heroin epidemic is that it predominately affects individuals between 21-25 years of age. Concerning the gender split, approximately 63 percent of males are addicted to heroin versus 37 percent of females. It is not known precisely why Washington's population always seems to be so susceptible to heroin addiction. However, some experts do have some therapies. Washington has some of the highest depression and anxiety disorder rates in the world, a crucial possible driver behind individuals self-medicating with heroin to feel happier. Washington is also a significant transit route for heroin trafficking because its western coastline is challenging for authorities to monitor due to the harsh terrain. Washington is listed as one of the easiest states for heroin smugglers to enter.
Recreational Marijuana Use
WA was the first state throughout the United States to legalize recreational marijuana use. Thousands of recreational marijuana dispensaries operate throughout the entirety of the state, making it extremely easy to get access to the drug. As a result, Washington has the highest marijuana addiction rate in the world. Many of the state's rehab facilities cater to marijuana addicts, offering them highly effective inpatient and outpatient therapy programs. The collective rehab industry across Washington has a marijuana addiction treatment success rate of about 74 percent, illustrating just how active the state is at combating the disorder. Marijuana addiction doesn't trigger deadly withdrawals similar to detoxing from heroin addiction, making it a right candidate for outpatient therapies.
Top Cities for Inpatient Drug Treatment