Texas Addiction Treatment Information
Unfortunately, the average number of people receiving rehab treatment for alcohol or drug abuse in Texas has recently dropped from nearly 50,000 on any given day to just over 30,000. This dramatic drop isn't due to a decrease in addiction, but rather by a lack of access to addiction recovery resources, limited availability and accessibility, and limited effective, high-quality treatment options.
Addiction Statistics in Texas
Like many of the more largely populated states, Texas has quite a bit of underage drug and alcohol abuse, which can lead to long-term health and legal issues for younger substance abusers. In Texas, roughly 200,000 adolescents have reported using illicit drugs in the last month. Part of this issues stems from a faulty perception of the risks involved with substance abuse, as nearly 70% of Texan teens didn't think smoking marijuana once a month was a potentially risky practice. And 56% didn't think consuming 5 or more alcoholic beverages once or twice a month was dangerous.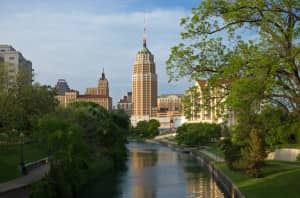 One of the indicators of current and future treatment needs include youth drug and alcohol use. In Texas, nearly 200,000 adolescents reported using illicit drugs within the past month. Perception of risk is also an indicator, and nearly 70% of teens in Texas didn't see any great risk in smoking marijuana once a month, while 56% perceived no risk of consuming five or more alcoholic drinks once or twice per month.
With such a large population, the overall substance abuse rate is slightly lower for Texas compared to other parts of the country. Still, roughly 1.3 million Texans age 12+ were dependent on or abused drugs or alcohol within the last year, with about 500,000 of those individuals abusing illicit drugs.
Rehab Treatment in Texas
Only 5% of those suffering from substance abuse issues in Texas over the age of 12 are receiving the help and treatment services they need. In other words, not nearly enough people are getting the help they deserve.
Other factors that keep Texans from getting the addiction treatment and recovery help they need include the lack of interventions and co-dependency, both of which enable and help this problem continue to fester. Interventions can be approached in a multitude of ways, and it often takes someone or something stepping in and causing a significant disruption of an addict's daily life to impact the destructive cycle of drug and alcohol addiction.
On average, of those who are enrolled in some level of rehab treatment in Texas, about 13% are receiving treatment for alcohol addiction, 44% are in rehab for drug addiction, and the remaining 43% are in treatment for some combination of drug and alcohol rehab treatment. There are roughly 10,000 people receiving medically assisted opiate replacement therapy treatment, with 9,500 on methadone treatment and the remaining 500 on buprenorphine.
In Texas, unlike most other states, these percentages have remained fairly stable over the last several years.
In many instances, rather than recommending opioid replacement therapy and long-term maintenance drugs, we often encourage people seeking addiction treatment in Texas to get a second opinion from an addiction specialist and ask about going through a detox program in Texas when appropriate. When treatment is lead by detoxification, there's usually a period of inpatient treatment at a residential rehab facility for a time, followed by outpatient treatment programs to help the patient return to their life health, sober, and better prepared to face challenges.
Thankfully, changes in insurance laws and policies should continue to help reverse the decline in treatment numbers and assist more people in getting the help they need to overcome their substance abuse issues. Behavioral health coverage is also expanding for these types of services, which can greatly impact treatment options for those with a dual diagnosis.
Addiction in Texas
In the State of Texas, millions of individuals and families alike are impacted by addiction each year. With just 5% of those living in Texas seeking help for their addiction to drugs or alcohol, there are many more who are still in need of assistance. If you are struggling to overcome an addiction to prescription medication, alcohol, or even illicit substances, learning about the resources you have available to you is imperative to find a solution that is right for you.
The more familiar you become with the various rehab resources that there are available today, the easier it is to find a treatment center or program that is sure to help you stick to your new sober lifestyle.
Types of Rehabilitation Services
Not all rehab programs and facilities operate in the same manner. While some rehab centers may allow visitors, others may enforce stricter zero-tolerance policies to prevent individuals in need from feeling tempted to leave or give in to using substances again. Before choosing a rehab program that is optimal for you, it is essential to know how to differentiate the types of rehab centers or services that are currently available. Some of the most common forms of rehab available in the State of Texas include:
Outpatient Programs: Outpatient programs are the most common form of rehab services available in most states throughout the US. An outpatient program does not require you to relocate, quit your job, or live within a facility while completing the plan you have chosen itself.
Intensive Outpatient Programs: An intensive outpatient program, or IOP, is a program that combines elements of both inpatient rehab centers as well as traditional outpatient programs.
Inpatient Rehab Addiction Treatment Programs: An inpatient rehab treatment facility provides programs that last anywhere from 30, 60, or even 90 days. Inpatient rehab facilities require individuals in need of care to remain living on the premises throughout the entirety of the duration of their selected or designated rehab program.
Inpatient Rehabilitation Treatment Centers
Inpatient rehabilitation treatment centers are often extremely beneficial to those who need constant care and around-the-clock monitoring. In an inpatient care facility, you are required to live within the center itself while completing your program. When completing an inpatient addiction treatment program, take advantage of the following benefits that inpatient centers provide:
Case Managers: Work one-on-one with an individual case manager who is assigned to help you navigate the process of overcoming your addiction and the program you are involved in.
Alcohol and Drug-Free Environment: Take advantage of a zero-tolerance environment with an inpatient care facility. Alcohol, tobacco, drugs, and prescription medications are all prohibited unless they are permitted under supervision by a member of the facility's staff.
Counseling: Spend time with an individual counselor who specializes in addiction and overcoming addiction. Learn how to express yourself openly in a safe and welcoming environment without the fear of feeling judged, shamed, or even guilted for your honesty.
Group Meetings: Group therapy sessions are also often available with inpatient rehab centers. Spend time getting to know others who are also interested in living a sober lifestyle and taking control of their addictions. Communicate openly with those who attend group meetings as a part of therapy and as a way to connect with other individuals who have faced similar struggles in their own lives as you.
Detox: In some inpatient rehab centers, a medically-monitored detox program may be available. Medically-monitored detoxing is vital for individuals who have a severe or life-threatening addiction to alcohol, opioids, or even prescription medications. When you require medically-monitored detoxing services, consider an inpatient rehab center or facility.
Benefits of Inpatient Rehab Programs
Choosing an inpatient rehab program is not only a way to experience a zero-tolerance environment as you work towards a sober lifestyle, but it is also a way to experience the following:
Individualized Care: Not only will you work with a case manager who is assigned to your case, but you will also meet with counselors and addiction specialists. Obtaining individualized care when facing an addiction head-on plays a pivotal role in overcoming an addiction. When you feel as though you have a complete support while working through temptation and the detox process, you are much more likely to remain motivated and committed to defeating your addiction.
Access to Specialists: Work alongside addiction specialists and medical staff who are experienced in working with those affected by addiction.
Added Support: Build a necessary support group to help with the challenges and struggles you encounter while working towards a life of sobriety. Improve your mental and emotional health by connecting with other individuals who are also enrolled in the same program as you. Having the right support group is imperative while overcoming addiction and learning how to live a life without drugs and alcohol.
Coping Skills: Learn how to better cope with temptation and the ups and downs you are likely to encounter throughout detoxing and while sober. Learn which responses are best to overcome difficult situations while remaining sober. Build a network of resources and reliable sponsors to turn to when you are feeling stressed or overwhelmed, but you want to stick to your goals of a sober lifestyle.
Aftercare Resources and Additional Programs
When you are considering an inpatient addiction rehab treatment program, it is essential to inquire about potential aftercare resources that are also available. Aftercare resources typically provide outpatient programs and necessities to help individuals stay on track to meeting their sobriety goals, even after completing their inpatient rehab program.
Traditional Outpatient Treatment Programs
Traditional outpatient treatment programs are also used as tools to work towards a sober lifestyle and to rid addictions. Some outpatient programs in your local area may include:
Sponsor Meetings: Sponsor meetings are essential for some individuals who are looking to remain sober but require an additional support group. Become a sponsor or obtain a sponsor of your own by regularly attending local sponsor meetings.
Counseling and Group Therapy: There may be outpatient programs near you that provide both counseling and group therapy sessions. Meet daily, weekly, or even monthly to discuss the challenges you are facing while living without the use of drugs and alcohol. Share your emotions with others while providing emotional and mental support for others who are also in need.
Intensive Outpatient Programs
Another type of addiction rehab treatment involves intensive outpatient programs or IOPs. An IOP may include elements of inpatient and outpatient programs, depending on your needs and the type of plan you are interested in. Most intensive outpatient programs not only provide traditional outpatient services, but they may also include access to medical professionals and medically-monitored detox solutions.
While one rehabilitation center may work for an individual, it may not work for another. Learning more about inpatient, outpatient, and even intensive outpatient rehab programs is a way to determine the best course of action that is right for you.
Choosing the right rehab center can make all of the difference and often depends on your personal needs, your personality, as well as your history with using alcohol and drugs. By taking the time to research various programs that are appealing to you, find an addiction rehab treatment service that can genuinely help you to turn your life around for the better.
Find a Rehab Center in Texas Today
If you or a loved one are trying to find the best alcohol and drug addiction rehabilitation for your situation, Addiction Treatment Services can help. We'll verify your insurance benefits and help you locate an effective drug and alcohol rehab treatment facility that meets your needs, whether you're in Texas or any other state. Contact us today to get started on your road to recovery.
Other Resources in Texas
Texas Department of State Health Services
Mental Health and Substance Abuse Division
PO Box 149347
Austin, Texas 78714-9347
512-776-7111
www.dshs.state.tx.us/MHSA/
The mission of the Mental Health and Substance Abuse Division (MHSA) of the Texas Department of State Health Services is to improve health and well-being in Texas by providing leadership and services that promote hope, build resilience, and foster recovery.
Mothers Against Drug Driving (MADD)
511 E John Carpenter Freeway, Suite 700
Irving, TX 75062
214-744-6233
www.madd.org
The mission of Mothers Against Drunk Driving is to stop drunk driving, support the victims of this violent crime and prevent underage drinking.
Research Society on Alcoholism (RSA)
7801 North Lamar Boulevard, Suite D-89
Austin, TX 78752-1038
512-454-0022
www.rsoa.org
Alcoholics Anonymous meetings in Texas
Find a listing of local AA meetings here
Narcotics Anonymous meetings in Texas
Search for local NA meetings here
Local drug and alcohol rehab programs in Texas
Search for a facility here
Top Cities for Inpatient Drug Treatment