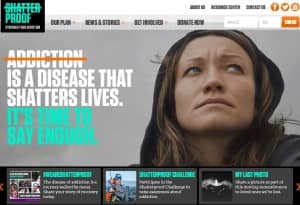 Gary Mendell decided to attack the drug addiction problem head on after his son passed away while dealing with a heroin addiction. His son Brian had struggled with heroin for years and wound up committing suicide in 2011 at the age of 25. Mendell chose not to let his son's death be just another tragedy caused by a heroin addiction, so he left his lucrative job as a hotel developer and founded an organization called Shatterproof.
Gary is trying to position Shatterproof to be the first umbrella organization that addresses addiction prevention and treatment. Other umbrella groups for causes include Autism Speaks or the American Cancer Society. These organizations act senior to other nonprofits that fight for the same cause. In the world of drug and alcohol addiction there is no single umbrella group, which is why Shatterproof is trying to take the lead.
While this may pose a conflict between some other addiction advocate groups, Mendell says that the most important thing is addressing the drug and alcohol crisis in our society. Although there may not be a single organization waving the flag for the entire field, there are multiple groups doing incredible things that are much larger and have a more direct impact currently, such as The Partnership at Drugfree.org, the Community Anti-Drug Coalitions of America, and many others.
There are two things that have the potential to boost Shatterproof in influence that also benefit these other organizations. The first is that The Affordable Care Act is requiring all insurance companies to supply their clients with mental health and substance abuse benefits. Additionally, the Mental Health Parity and Addiction Equity Act ensures that all plans that have mental health and substance abuse benefits also allow for equal coverage for treatment of behavioral health problems. These two major steps will allow more addicts to seek out treatment for their addictions.
While there are several organizations that are geared toward one aspect, such as treatment, or prevention or education, Shatterproof seeks to focus on all aspects of addiction and treatment. This, Mendell says, is what makes the organization stand out from the rest. He credits his business background when asked how he came up with Shatterproof's plan of action. By treating the organization like a business, Mendell believes he will be more successful in getting his message across to the public. Part of his mission is to make it known that drug and alcohol addiction does not have to be taboo, it does not have to end lives and it can be overcome.