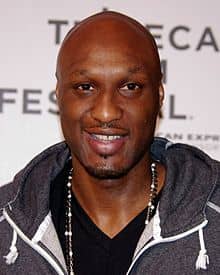 This week former NBA player and reality TV personality Lamar Odom was found unresponsive in the room he was staying at in a brothel in Nevada. He was immediately rushed to the hospital where he has been ever since, fighting for his life.
Representatives from the Sunrise Hospital have explained that his condition is very much touch and go. Doctors are worried about the length of time that he has been unresponsive and his organs are failing. It is widely believed that Odom was under the influence of several different types of drugs, including herbal Viagra, crack cocaine, and opiates. While the basketball star's family and friends remain by his side, praying and waiting for a miracle, the rest of the world is forced to look at the reality of addiction and how quickly it can take a person's life.
Odom is not the first star to succumb to drug use, and he likely will not be the last. However, because of his connection to the Kardashian/Jenner family, his struggle is well publicized. Instead of sitting back and watching the saga play out, the public is being given a chance to reflect on just how dangerous drugs are, even those that claim to be herbal.
Hopefully, Odom still has a fighting chance to recover – first from the acute health conditions and then from his substance abuse problem. If not, he will, unfortunately, be one more in a long line of celebrities who have tragically lost their lives to drugs and associated behavior. Our thoughts and prayers go out to Odom and his friends and family members.
During times of crisis like this, it is possible that some good could come out of it. Rather than the partying lifestyle that is so often promoted by reality TV shows, they could instead focus on the dangers and consequences of those actions to help prevent younger people from emulating them.
Lamar Odom has struggled with drug use for quite some time. His storied past has many ups and downs, as chronicled by many media outlets, and his struggles with substance abuse have been chronicled for many years.