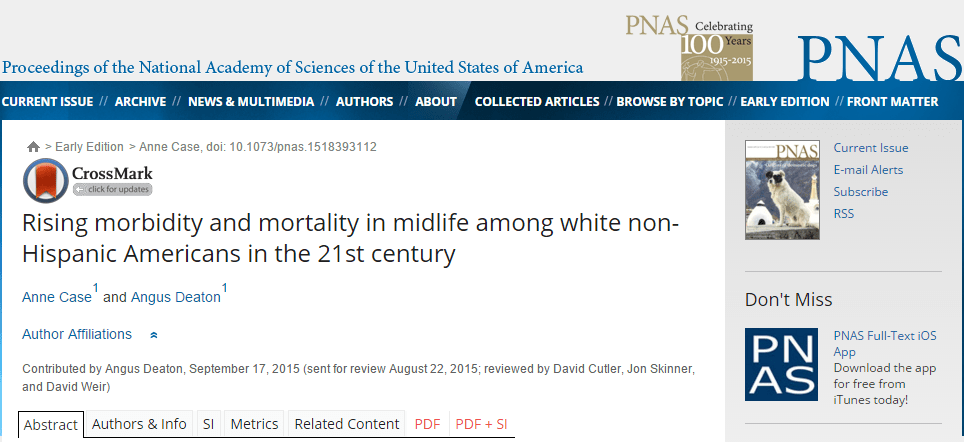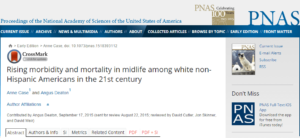 In general, the mortality rate in the United States has been steadily declining. This means that more people are living longer than ever before, which is often attributed to the wonders of modern medicine. However, middle-aged Caucasian males are not among the groups who are increasing their lifespan. This is likely due to the increased drug and alcohol use among this group as well as more reported suicides. A new study by a Nobel prize-winning researcher was published by the National Academy of Sciences.
According to a recent article, "Death rates for other races have continued to fall, as they have for whites 65 and older. But death rates for whites 35 to 44 have been level recently, they're beginning to turn up for whites 55 to 64, and – most strikingly – death rates for whites ages 45 to 54 have risen by half a percent per year since 1998." The research team was headed by Angus Deaton and Anne Case from Princeton University.
This information is important because it seems to correlate with the time that painkillers started becoming more widely prescribed and abused. The late nineties was when doctors starting prescribing pills like OxyContin and Vicodin to patients with varying levels of pain.
There has also been a higher incidence rate in self reported problems among the same age group such as various types of pain, other liver and other physical health problems as well as many mental health issues.
It is slightly ironic that modern medicine, specifically the pharmaceutical component, can be credited with helping to sustain life for some people and end it for others.