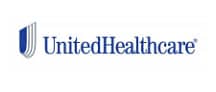 Addiction Treatment Services helps with many drug and alcohol treatment and rehabilitation facilities that accept United Healthcare insurance coverage for inpatient treatment. United Healthcare insurance is one of the larger insurance companies, and often their coverage plans benefit those seeking drug & alcohol rehab.
Understanding your benefits and coverage with United Healthcare
Many people calling for help are unaware of what their substance abuse and mental health benefits are as well as how they are very different from the general health benefits of their policy.  In fact, some are not sure as to whether or not they have an HMO or a PPO, which makes a big difference in what is covered.  Another important thing to understand with United Healthcare is that some of the policy's carry an MNRP portion for drug and alcohol rehab coverage.  What this stands for is Maximum Non-Network Reimbursement Program which is a Medicare based reimbursement program.  It is so important to know that if this is on your policy, your drug and alcohol rehab coverage will be reduced to Medicare rates and will greatly reduce your ability to receive coverage compared to a non MNRP policy.
We'll review your United Healthcare insurance plan.

We will determine if you have a MNRP policy or not. 

We'll help determine if you are covered for substance abuse treatment.

We'll help determine what kind of treatment and how much is covered.
Addiction Treatment Services has been verifying insurance for our intervention clients for the last eight years and we have seen just about all you can with insurance companies.  The most important thing is that all insurance plans are different.  On any given day the same two policies can have identical claims submitted by the same treatment center and one of them will be approved and the other denied.  Drug & alcohol rehab programs accept insurance based on historical events.  Just like any other carrier, nobody can give confirmation on the approval or denial of benefits.  To often people assume because their insurance says a certain percentage of coverage they feel that's whats covered plus their copay.
Whether your purchasing United Healthcare insurance individually or your receiving it through an employer you need to understand that your substance abuse and mental health benefits are very different than your general health plan.  Furthermore, just because your agent tells you that you have addiction coverage doesn't mean it's good.  What they may think is good and what actually is covered are two completely different things.  We try to tell anyone we speak with that if you or a loved one on your policy has addiction issues, it is so important to make sure that if you have United Healthcare that your policy is a PPO and that it does not have the Maximum Non-Network Reimbursement Program (MNRP) in it.