Although it was once believed that addiction was the result of weaknesses in willpower or morality, it is now widely acknowledged that anyone can become trapped in a cycle of physical and psychological addiction. The medical community now understands that addiction should be treated with the same level of commitment, resources and respect with which they address other types of illness.
Addiction is a serious health concern that negatively impacts the lives of those who are dependent on substances. Addiction's ripple effects also impact friends, family and co-workers.
Unfortunately, many people deny their addiction or put off treatment because they're worried about what might happen if they go to rehab. But the longer an addiction goes on, the greater the threat to personal health and safety, and the greater the risk of major legal and career consequences.
Uncertainty about insurance coverage and how to pay for rehab is one of the issues that may delay seeking treatment for many individuals. Let's look at how insurance coverage for addiction treatment works and address common concerns.
Will Going to Rehab Raise Your Insurance Rates?
No. Under the Affordable Care Act (ACA), insurance companies in the U.S. cannot raise rates or premiums for patients who seek treatment for one of the 10 "essential services" covered by the ACA, and substance use disorder is one of those essential services.
Under the ACA, insurance companies must cover addiction treatment the same way they cover other illnesses, and cannot charge more or deny coverage for pre-existing conditions.
However, it does not guarantee that the entire cost of treatment will be covered. What exactly is and is not covered will depend on the individual's insurance plan.
Alcohol and Drug Rehab Insurance Coverage Under the Affordable Care Act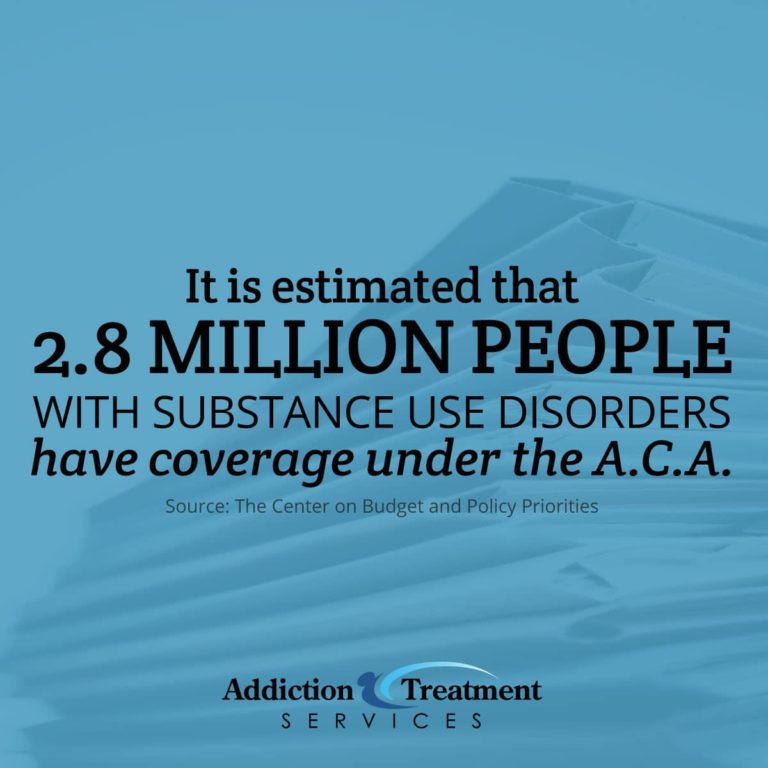 The Affordable Care Act, also known as Obamacare, outlines 10 "essential services" that all insurance plans must provide coverage for.
One of those 10 essential services is:
Mental health and substance use disorder services (including behavioral health treatment)
The ACA also forbids insurance companies from raising premiums or denying coverage due to pre-existing conditions. This means that those who need rehab no longer need to worry about their addiction being labeled as a pre-existing condition that could affect future insurance coverage or rates.
Finally, the ACA requires that insurers charge the same rates to all patients on a given plan, regardless of factors such as age or pre-existing conditions. The level of coverage must also stay consistent regardless of the type of illness, which prevents insurers from discriminating against those with drug or alcohol addictions.
What Types of Addiction Treatment Services Are Covered by Insurance?
While the exact coverage depends on the particular insurance plan, plans generally cover the following types of addiction recovery services:
Inpatient/residential treatment
Partial hospitalization programs
Outpatient treatment (including Intensive Outpatient Programs)
One-on-one counseling
Group therapy
Recovery support services and education
Medication (for detox and maintaining sobriety)
Ongoing support groups
This is a general guide. You should check your insurance benefits statement to determine what your plan actually covers, or you can have a third-party professional review your insurance plan and break it down for you.
Will Insurance Cover the Full Cost of Addiction Treatment?
The answer to this question depends on the specifics of your insurance plan and the treatment program you choose. As with all insurance plans, there are specific limits and requirements. You may find that your plan covers all or only part of treatment.
However, the law does require that insurance companies pay at the same rates for rehab as they do for other types of medical treatment. This prevents insurance from charging more or covering less in an unfair way. How much coverage you will have will depend on your overall level of insurance benefits. Plans with more expensive premiums typically cover more than less expensive plans.
Because knowing what type of treatment is needed and how insurance covers this treatment can be confusing to people who are new to this topic, we highly recommend talking with an expert in this area. You can certainly call your insurance company to ask about coverage and rehab options. Just keep in mind that they may steer you towards providers that are in their network and the most affordable for them, not necessarily the best for you.
However, our insurance experts at Addiction Treatment Services can provide you with an objective analysis of your coverage and help you narrow down your treatment center choices based on your unique circumstances and needs.
How Can I Afford Out-of-Pocket Rehab Costs?
If you find that your insurance will only cover part of the cost of treatment, then the next step is to figure out how to pay the balance. Check with the rehab facility you've selected to see:
If they will allow you to pay in monthly installments;
If they can refer you to lenders who specialize in this type of financing; or
If they offer discounts for up-front cash payments.
Again, speaking to an expert in the area of rehab financing can save you a lot of time in this process. Addiction Treatment Services can help you with this as well.
When Is the Best Time to Get Addiction Treatment?
Now is the best time to get serious about going to rehab, for two reasons:
The longer addiction goes on, the more it harms the life of the addicted individual.
The Affordable Care Act may be changed in the future in ways that remove the consumer protections that are currently in place.
Before the Affordable Care Act, treatment for substance abuse and addiction was not always covered by insurance. Now, the ACA guarantees at least partial coverage to those who need it, and ensures that insurance companies treat addiction patients fairly. But if changes to the law occur, then it may once again become harder to get insurance coverage to help pay for addiction treatment.
There is no better time than the present to seek out the professional help needed to take back control from addiction. Right now, this is being made easier by the United States government through the Affordable Care Act. Take advantage of this opportunity to turn your life around for the better – without having to pay the full cost yourself.
Insurance and Intervention Help for Families
While insurance will cover some portion of treatment for addiction and substance abuse, navigating insurance coverage and claims can be very difficult without the help of a professional.
Addiction Treatment Services can help you with insurance verification, advise you on how to get the most out of the coverage you have, and then help you find a rehab program that is 1) covered by your plan and 2) a good fit for the type of treatment you need.
We can also advise families on how to stage an intervention for drug addiction so that their family member can understand the importance of going to treatment right away. With addiction, any delay in undergoing treatment can be deadly, so bringing in professional help speeds up the process.
Learn How We Help Individuals and Families Understand Addiction Insurance Coverage